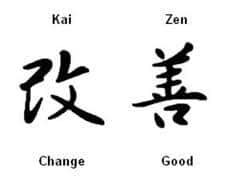 Today, Joe Swartz and I are leading a workshop about "Healthcare Kaizen" in Farmington Hills.
A "core Kaizen concept," as Joe says, is that leaders who want their employees to participate in Kaizen should first make an improvement to their own work. It's a way of leading by setting a good example. If I can do it, you can do it (and I'll help you) is what the leader is gently saying.
Joe and I were at my parents' house last night going through final prep for the event and that included signing copies of our books for the attendees. And we found a Kaizen opportunity pretty quickly.
We're trying to set a good example for the people we will be teaching and coaching.
Joe and I, being the industrial engineers that we are, set up a small assembly line with single piece flow between us. No batching here! I'd sign and book and pass it to Joe, who would then sign it. We had a very well-balanced line as our signatures were taking the same amount of time. It helps that our names are basically the same length. No "WIP" was piling up between us.
Now, the Kaizen improvement we came up with is a VERY minor time savings — but that's OK. We were signing about 30 books, so the time savings was multiplied a bit (imagine if this was a daily work process done many times). With Kaizen, we don't just tolerate small improvements, we encourage them. Small improvements are great. They help build enthusiasm and participation and that leads to more Kaizen (some of which can have a huge impact, like this example).
After signing a few books, I noticed a small opportunity to reduce some wasted motion for Joe.
Here is the improvement (click the photo for a larger view), as documented in our usual format:
Joe was trying to ham it up a bit in the "before" photo, as if he was annoyed with me for closing the cover before passing it over. We were laughing a bit too much for him to fake being angry or annoyed.
Our Kaizen was a small "change for the better." We didn't measure an ROI or anything. It was a good, small, simple change that came out of our own knowledge of the work and our own interest in improving.
After talking about the Kaizen, I slipped up a few times and went back to the OLD way of doing it. Old habits (after signing just a few books) can be hard to break. I noticed I was still tending the close the book cover, so I corrected that (and we laughed about it again).
Kaizen can be, and should be, fun.
Why do we take the time to document the idea? To give recognition, to reflect on our improvement, and to share the idea with others.
Some other stuff to share:
---
What do you think? Please scroll down (or click) to post a comment. Or please share the post with your thoughts on LinkedIn.
Don't want to miss a post or podcast? Subscribe to get notified about posts via email daily or weekly.
---