Mark's note: Today's guest post is from a friend of mine from The Netherlands. I had a chance to visit Marc and his hospital back in 2009 and I've seen Marc and colleagues the last three years at the Lean Healthcare Transformation Summit. You can watch a video of his 2012 presentation  with Dr. Jacob Caron  (in English).
By Marc Rouppe van der Voort
In the new and important book Healthcare Kaizen  by Mark Graban and Joe Swartz, they discuss the application of Kaizen.I especially appreciate that Mark and Joe explore the meaning of Kaizen as part of everybody's daily work (versus project or event based improvement). Recently I learned about the original meaning of the Japanese characters that make up the word Kaizen and that helped me to understand it on a deeper level than before. It was explained to me by Jeff Kaas, an inspiring entrepeneur of Kaas Tailored  in Seattle, and he learned it from Brad Schmidt, who explains the origin of the word Kaizen in this video.
Brad shows, in the video, that Kaizen consists of two characters:
'Kai' stands for 'change' and
'Zen' stands for 'good '.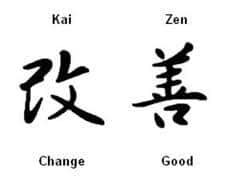 So 'good change' (see also the picture). In English Kaizen is often translated as 'continuous improvement' or as I slightly prefer in the book of Mark as 'change for the better' (because it includes also a moral component of 'better for the world'). In a former blog of Mark's,  there is a video of Masaaki Imai in which he explains Kaizen as "everyone, everywhere, always improving'. He explains that the common translation of Kaizen as 'continuous improvement' misses the meaning of 'self-discipline' and 'decdication'.
When the Japanese characters are examined more closely, they reveal that deeper meaning. 'Kai' consists of two characters: 'self' and 'whipping'. That entails indeed much more the concept of 'dedication' and 'discipline'. 'Zen' is composed of the characters for 'lamb' and 'altar': 'sacrifice'. Together the characters point towards discipline and sacrifices to achieve something good. 'Good' defined in this way can also include a moral component of 'better', which I think is an inspiring aspect of the Toyota Way, as I noted above.
I always try to avoid foreign terms in the application of lean in our hospital (the St. Elisabeth Hospital in Tilburg, The Netherlands). Kaizen we kept, because it seemed to lose to much of it's meaning when translated into Dutch. Although we will continue to use 'Kaizen' as a term, I can now explain it much deeper because the original meaning of Kaizen can be connected to 'passion'. The Dutch translation of 'passion' is 'to suffer' + 'that which drives you'. Or as I like to define it (based on what I learned from Marius Buiting):
"Passion is the suffering you are willing to endure to achieve something that you believe in."
Kaizen seems close to 'passion', but adds 'discispline'. And therein lies the link to continuous improvement. It's not about suddenly changing everything, but continuously taking small and sometimes bigger steps to get every day a little bit closer to something that is important.
For passionate athletes or musicians this is alsmost obvious as a way of life. Kaizen seems to about creating a similar culture in an organisation, not to improve the performance of an individual, but of the processes that we all contribute to, to achieve something that is important.
This led to several questions that I started to ask myself:
"How much suffering am I willing to endure to improve the processes of my organization?'
"How much suffering have I endured or avoided (!) lately to improve processes?"
"Am I disciplined at continuous improvement?"
Do these questions help you?
Marc
About Marc Rouppe van der Voort: Marc is the Innovation Manager at St. Elisabeth Hospital in Tilburg, The Netherlands. You can read his Dutch blog and his English language version.  
---
What do you think? Please scroll down (or click) to post a comment. Or please share the post with your thoughts on LinkedIn.
Don't want to miss a post or podcast? Subscribe to get notified about posts via email daily or weekly.
---