Suicide Prevention Group Blasts GM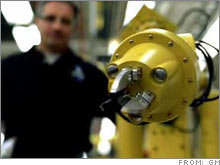 GM sticking with robot suicide ad criticized by group – CNN
For different reasons than the reasons why I didn't like the ad, but groups are attacking the "suicidal robot" ad for being insensitive.
I still can't believe that GM couldn't find a better way to illustrate their "obsession with quality."
More from AutoBlog, with comments consisting mostly of knee-jerk reactions defending GM's "right" to run the ad or bemoaning "political correctness."
It's GM's right to run a stupid, ill-conceived ad that doesn't illustrate true quality. Asking them to stop running the ad isn't an infringement on the 1st Amendment if it's private citizens asking them to stop. It's in poor taste for the suicide prevention group to ask GM for a donation, though.
---
What do you think? Please scroll down (or click) to post a comment. Or please share the post with your thoughts on LinkedIn.
Don't want to miss a post or podcast? Subscribe to get notified about posts via email daily or weekly.
---
Latest posts by Mark Graban
(see all)