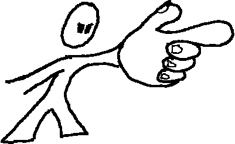 I knew it when I first wrote about the latest "runway incursion" (near miss) at O'Hare. It seems too easy to pin the blame on one individual, as the FAA and the media did, blaming an Air Traffic Controller. It's too easy to feel good thinking that it was just the fault of one lazy or sloppy individual. It's a systemic problem, one that's just as likely to occur again tomorrow. That's the scary thought. Fixing the problem requires lean thinking, not blame.
I wrote about one systemic fix — ground radar — as if they didn't have it at O'Hare. Turns out that, of course, they have been piloting it at one of the nation's busiest airports. But, it's glitchy. It gives too many false alarms, especially during rain (when it's needed the most!). So, think of what happens when you have a shopfloor machine that is giving too many false faults — what do many people do instead of fixing the root cause? They turn off the alarm (or the ground radar system).

This article said:
"The safety system that tracks planes on the airport's runways was not set to sound an alarm at the time of the incident, said Lauren Peduzzi, a spokeswoman for the National Transportation Safety Board. The NTSB sent an investigator to Chicago Tuesday, the second time this year the accident investigation agency has dispatched a team to the airport to study near-collisions."
The ground radar system is the responsibility of the FAA, so no wonder they were so quick to blame the ATC!
The good news is that an upgraded system is on the way — a systemic fix.
"Bellino said the warning system is almost never switched on at O'Hare because it is so prone to errors.

A newer warning system that issues fewer false alarms and is not affected by bad weather has been installed at seven airports. The installation schedule, however, has been slowed by budget cuts. O'Hare is among the airports scheduled to receive the newer system."
It's unfortunate that there is a tradeoff between safety and budget. Not good.
So is this a systemic problem? There have been FIVE near misses at O'Hare alone this year. If you want more proof that it's a systemic problem, this article talks about a very similar recent near miss at LAX. It was an even closer call, as the planes passed within 50 feet, compared to the 300 feet at O'Hare.
A system designed to alert controllers to potential collisions was not operating properly at the time.
Surprise, surprise. In this case, you could just as easily place the sole blame on a pilot, but again, I think that's simplifying the situation.
Officials attributed the incident to an error by the America West pilot, who told investigators he "got confused" when he reached "hold bars" on the taxiway that designated where he was supposed to stop and instead continued forward onto the runway.
Yet another systemic problem that hasn't been fixed. I've blogged before about the need for error proofing and better visual controls on runways.
We really need to move beyond the blame game. The lean mindset (and W. Edwards Deming) teach us that "people are human" and people will make mistakes. Most mistakes are ultimately the fault of "the system" and we need to error proof the system so that it's difficult (or impossible) for good people (who are trying hard) to make mistakes. We need to be smarter about system design instead of falling back on blame.
---
What do you think? Please scroll down (or click) to post a comment. Or please share the post with your thoughts on LinkedIn.
Don't want to miss a post or podcast? Subscribe to get notified about posts via email daily or weekly.
---