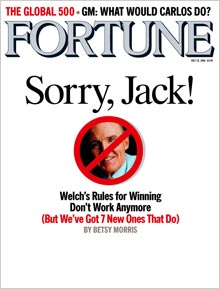 Fortune: The new rules – Jul. 11, 2006
Part of Fortune's cover story about how Jack Welch's "old rules" don't apply any more, this includes the "old" rule of annually removing your "C players" from the employee ranks. The "new" rule is to hire passionate employees.
One thing I never did like about the GE/Welch system is that it called for a annual 10% goal for "rank and yank" — rank your employees and get rid of the low ones.
"Welch advocated ranking your players and weeding out your weakest, and HR departments turned Darwinian."
I always wondered: what happens if you happen to have an organization full of winners — do you need to arbitrarily get rid of one because somebody has to be "the worst"? Then, what happens after a year or two of cutting the "losers" — do you start cutting good players? The method sounds good in the context of Western business — it's hypercompetitive, the best survive, macho stuff. It seems antithetical to the Toyota concept of "respect for humanity." I don't recall ever hearing of Toyota doing "rank and yank."
I thought negatively of the GE practice in the context of the Deming teachings that annual reviews should be abolished — they tend to be arbitrary and political or good people might be punished for a quantitatively bad year that's the fault of the system. It's hard to rank people individually when they work in a system (a GE business). That forced ranking fosters internal competition, and its dysfunctions, rather than internal cooperation (why help someone if it brings them off of the C list and threatens your job as a result).
But, I started thinking about the practice of getting rid of your "C players" in the context of Toyota and the "respect for humanity" principle. Its disrespectful (and counterproductive) to your good, hard-working employees to keep anyone around who has a bad attitude or isn't willing to pull their weight. For the sake of the "good" employees, you HAVE to get rid of the "bad." This idea is, and must, be made compatible with lean.
However, if you can avoid forced rankings and the slow feedback of the annual cycle, you might have a system that's better than GE's. You need to give continuous feedback if you suspect someone isn't working out. You have to give them a chance to improve, you have to coach them. That's Deming's suggestion of "Substitute Leadership." Don't wait for the annual review, that's slow feedback, that doesn't help people. Truely coaching someone to get better shows respect. Just waiting to fire them does not.
"People are entitled to joy in work." — W. Edwards Deming
Why is there an arbitrary choice between passion and excellence? Why can't you have both? People love "either/or" choices…. let's not throw out Welch's idea, let's build on it.
Toyota (among with Southwest Airlines) are extremely careful in who they hire. I'm sure they are screening out obvious "C players", so they don't have to come fire them after some time on the job. If you hire people who have passion to begin with, the job of a lean manager is to not extinguish that passion through bad management practices.
The lean approach of kaizen is a great way of keeping the passion going by empowering your employees to make improvements and changes in the workplace. Almost everybody starts a new job being very motivated… you have to, as a manager, set up a system that helps keep that fire burning. Otherwise, you'll be spending more time trying to sort out and fire the "bad" ones. Did anyone seem "bad" when you first hired them?
I think the final vote in favor of getting rid of the C's comes from a book I admire very much, "Hardwiring Excellence", by Quint Studer (which I've mentioned here before). He exemplifies many of the characteristics of a lean manager in a hospital setting — walking the gemba, being a servant leader, understanding a system.
He believes strongly in the A, B, C employee model. When leading change, you don't have to worry about your A's. The B's need to be identified also, but coached. You have a chance to make them A's if you lead them. The C's… as you're improving, you'll see which C's aren't moving forward and aren't improving. Then, you HAVE to get rid of the C's for the sake of A and B morale and respect for the harder-working employees.
Studer calls this the "uncomfortable gap" between the B's and the C's. Studer argues that if you don't remove the C's, the A's will remove themselves from the system due to their frustration. You'll lose good employees if you don't manage out the bad. Removing the C's is necessary for employee satisfaction, which then leads to customer/patient satisfaction. It seems that Studer believes in the Deming approach that you have to coach and give people a chance. He's not setting arbitrary targets, like GE — just get rid of the employees who are obviously dragging you down and it should, hopefully, be a one-time exercise.
This helps remind that "respect for humanity" doesn't always mean "be nice." Pushing people to improve shows respect. Being nice to their faces and firing them at the end of the year — that's not respect.
---
What do you think? Please scroll down (or click) to post a comment. Or please share the post with your thoughts on LinkedIn.
Don't want to miss a post or podcast? Subscribe to get notified about posts via email daily or weekly.
---