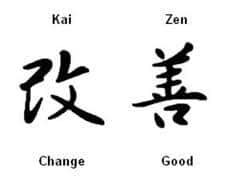 A friend sent me a link to this article, "7 cultural concepts we don't have in the U.S.," and he told me to check out item #5 in the list – Kaizen in Japan.
By the way, if you ever see articles that you think I might want to read or blog about, contact me here or email me at mark (at) leanblog (dot) org.
There's a pretty good description of Kaizen in the article, their example #5:
It reads, in part:
"Kaizen is a system that involves every employee, from upper management to the cleaning crew. Everyone is encouraged to come up with small improvement suggestions on a regular basis. This is not a once a month or once a year activity. It is continuous. Japanese companies, such as Toyota and Canon, a total of 60 to 70 suggestions per employee per year are written down, shared and implemented." These are regular, small improvements, not major changes."

Read more: http://www.mnn.com/lifestyle/arts-culture/blogs/7-cultural-concepts-we-dont-have-in-the-us#ixzz3OMIHikmt
I don't think the term Kaizen was "coined" in 1986 however, as the article states. That's the date of publication for Masaaki Imai's book "Kaizen" that introduced the term to the Western business world. In my travels there, I've been taught that Kaizen is a fairly common Japanese word, as is "Gemba" (the weather reporter will say they are live at "the Gemba" meaning outside). That doesn't mean every Japanese company has a great culture of continuous improvement though. Companies like Toyota have had to work very hard at this.
Listen to Mark read this post (learn more and subscribe via iTunes):
As the article says, Kaizen principles can be applied in your personal life (listen to my podcast interview with Dr. Bob Maurer on this topic).
What jumped out at me at the end of the article, though, was a comment left by a reader. You can see it and my response via the link or this image (click for a larger view):
So, managers in a workplace decide they want "Kaizen" (or so they say). Just about the laziest thing you can do is slap some signs up on bulletin boards and walls. Deryn doesn't feel listened to… so this "Kaizen program" (or a poor approximation of one) has left an employee more disgrunted and less engaged than before. Oops. That's a problem, an unforced error, that I'd like to see more organizations avoid.
I've seen a lazy sign asking for suggestions before on an initial visit to a hospital and I asked them to take down the signs (click for a larger view):
This sign didn't collect any ideas in the eight or nine months it had been hanging (I asked a nurse about it). I'm not surprised. That sign's not very engaging. Signs often don't solve the root cause of the problem. In this case, the surface problem was "no suggestions" (and poor patient satisfaction scores). I have another blog with a collection of signs from workplaces and the outside world that illustrate how signs are, at best, a workaround – not a solution.
What leaders need to do is spend time talking with people. Kaizen is interactive. It requires effort. Just hanging signs and/or a suggestion box doesn't work. You can read more in my books, co-authored with Joe Swartz, on this subject.
And when you DO get ideas from people, it's incredibly important for leaders to avoid rejecting ideas. If an employee has an idea that's not practical or affordable for some reason, a Kaizen culture has leaders working together with the employee to find SOMETHING that can be implemented.
What's important is solving the problem. I can't emphasize how important this is. If employees feel like their ideas are being ignored or blown off, they're going to stop participating. They're going to stop bringing ideas forward. And that's totally understandable.
As a final unrelated story (well, it's related to the linked article)… in my Lean travels to Holland, my friends and colleagues there taught me about (and demonstrated) a concept that could have been #8 on this list: "gezellig." It's a term that describes the atmosphere or people's personalities at, say, a crowded Dutch pub… the group sitting at the table that's real close to you… they're also your friends, just as the friends who came with you. Ah, the things I get to learn along the way!
---
What do you think? Please scroll down (or click) to post a comment. Or please share the post with your thoughts on LinkedIn.
Don't want to miss a post or podcast? Subscribe to get notified about posts via email daily or weekly.
---
Latest posts by Mark Graban
(see all)