Hat tip to Tony Manos of 5S Supply for sharing (via twitter) this interesting table that shows how a few minutes (or even a few seconds) can really add up across a period of five years.
My friend Paul Akers has a great little book called 2 Second Lean: How to Grow People and Build a Fun Lean Culture
. Paul shares the classic Kaizen advice that even a time savings of two seconds is worth celebrating because the benefits add up over time.
This chart, created by the site  xkcd, shows how that time adds up, with the left axis being the amount of time saved and the top axis being the frequency of your task: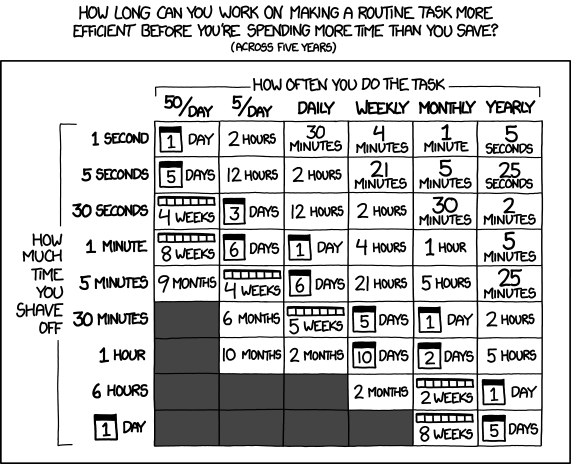 ---
What do you think? Please scroll down (or click) to post a comment. Or please share the post with your thoughts on LinkedIn.
Don't want to miss a post or podcast? Subscribe to get notified about posts via email daily or weekly.
---