"For the Record:" Reducing Healthcare Costs through Better Quality & Better Process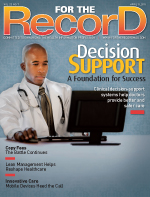 Thanks to the healthcare information magazine "For the Record" for accepting my article on Lean Healthcare. As usual, I wasn't given the chance to give input on the title of the piece, as it was titled "Lean Management: Thin Is In." Better than another "lean and mean" reference.
The piece is intended as an introductory article for those who might have not heard much or anything about Lean in this realm.
If you have comments on the article, please leave them here on the blog.
What do you think? Scroll down to comment or share your thoughts and the post on social media. Don't want to miss a post or podcast? Subscribe to get notified about posts via email daily or weekly.
Latest posts by Mark Graban
(see all)