Scroll down for how to subscribe, transcript, and more
---
My guest for Episode #491 of the Lean Blog Interviews Podcast is Sarah Tilkens, an experienced Lean Leader with a demonstrated history of working in construction and manufacturing.
She is a senior manager of operational excellence at GE Healthcare.
Sarah's a Six Sigma Black Belt, a certified life coach / executive coach, a lifelong learner, leader, mother, and CEO and Founder of her company, The KPI Lab. She earned her bachelor's in Biological Sciences from the University of Wisconsin-Milwaukee.
Sarah's Lean journey is intriguing as she sculpted her Lean management skills on the manufacturing floor at GE, despite her background in Biological Sciences. Interestingly, her Lean journey extends from being intrigued by her colleagues pursuing Six Sigma certifications to studying at GE's Lean Academy in Japan, where she observed the best Lean practices.
Moreover, she details her unique philosophy about Lean mindset, the significance of continuous improvement, and her holistic approach to coaching–indispensable factors in her role as a Lean Leader. She also talks about her personal transformation during the pandemic, integrating coaching skills into her professional life, and why self-care is a priority. Tune in to this engaging discussion to learn about Sarah's Lean journey as she shares her most significant learnings and experiences.
Questions, Notes, and Highlights:
Tell us your Lean or OpEx origin story…
Did you get exposed to Lean when you worked in construction?
Why construction? – went into sales, to a place of discomfort
How was the shift to manufacturing?
Hired as a Lean Leader – learned it there at GE
How did they educate you about Lean at GE?
You joined GE Healthcare in November 2018 — right after CEO Larry Culp was brought in as the first outsider CEO, right?
I was able to attend the September event that was hosted by GE (including GE Healthcare) called The Lean Mindset – how do you describe that mindset?
1×1 fit – each coachee as a customer?
Creating PULL for projects?? — better defining problem statements
Tell us about getting certified as a coach?
How can you take care of yourself so you can better help others as a leader?
How long should we give an experiment before deciding if we should adjust or try something new?
The podcast is sponsored by Stiles Associates, now in its 30th year of business. They are the go-to Lean recruiting firm serving the manufacturing, private equity, and healthcare industries. Learn more.
This podcast was also brought to you by Arena, a PTC Business. Arena is the proven market leader in Cloud Product Lifecycle Management (PLM) with over 1,400 customers worldwide. Visit the link arenasolutions.com/lean to learn more about how Arena can help speed product releases with one connected system.
This podcast is part of the #LeanCommunicators network.
---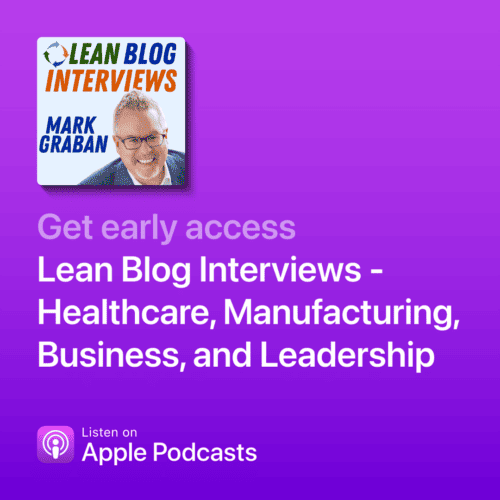 ---
Full Video of the Episode:
---
Thanks for listening or watching!
This podcast is part of the Lean Communicators network — check it out!

---
Episode Summary
Expanding Horizons of Lean Leadership
Meet Sarah Tilkins, a seasoned Lean Leader with a thriving career in multiple industries across manufacturing and construction. As the present Senior Manager of Operational Excellence at GE Healthcare, and a certified Six Sigma Black Belt, Sarah is a high-performing leader and staunch advocate of continuous improvement. Additionally, her certifications extend to being a life coach, a testimony to her commitment not only to her career but also to her personal evolution. However, Sarah is not just a seasoned professional, she's also a dedicated mother and the brainchild behind her brainchild, KPI Lab, a company she founded.
Sarah's academic journey saw her achieving a bachelor's degree in Biological Sciences from the University of Wisconsin, Milwaukee. Her post-college life involved conducting biomedical research. During her time there, she was intrigued by the Six Sigma certification that her colleagues on the Diagnostic Lab Quality Team were pursuing. This sparked her interest in process improvement, laying the foundation of her Lean journey.
In her work journey, Sarah moved from the field of biomedical research to construction. It was here that her passion for improving processes, even without a structured framework, continued to thrive. However, after exploring different work spaces and industries, she made a conscious decision to leverage the opportunities that GE Healthcare, an organization situated right in her city, Milwaukee, provided.
From Biology to Lean
Despite her biological sciences background, it was during her time in the manufacturing industry at GE that she learned the nuanced techniques of Lean management. She was recruited as a Lean leader, although the tools and terminologies associated with it were initially unknown to her. However, her knack for continuous improvement and problem-solving proved instrumental in molding her into an influential Lean leader at GE.
Moreover, an interesting aspect of her Lean journey was her opportunity to study at GE's Lean Academy in Hino, Japan. Here, she got hands-on experience observing the best Lean practices and learning about standard work routines and continuous improvement. Sarah also acknowledges the significant role her mentor, an former employee at GM and Toyota, played in honing her problem-solving skills and Lean leadership abilities.
Lean Mindset and Empowerment
To Sarah, the lean mindset isn't merely composed of the tools and problem-solving techniques; it's about identifying intrinsic motivation to solve problems. It's about relentless curiosity, exploration, and quest for continuous improvement. We need a mindset that allows for curiosity and learning to apply tools to better understand the problem at hand.
Sarah holds a unique perspective on coaching. She believes in understanding the strengths and interests of the people she coaches and caters her coaching strategy to match those aspects. She doesn't claim to hold the answers; instead, she guides her clients toward the answers they are looking for, all while making them feel more empowered and driven.
Furthermore, it's notable that empowerment proves vital during instances where setbacks occur – which are inevitable in any journey. It motivates individuals to perceive these failures as opportunities for revisiting strategies and rethinking ways for further progress. This is why Sarah lays immense emphasis on motivational frameworks to disentangle problems and stimulate progress.
The Journey of Continuous Improvement
Continuous improvement is not a one-time fix; it is a constant journey of learning, practicing, and improving. While implementing Lean methods, there can be variances and fluctuations along the path. These can easily dishearten individuals and instigate premature conclusions about the effectiveness of these techniques. However, in such instances, Sarah advises leaders to identify the times they have been successful, and use these experiences as the foundation to build new strategies and ideas.
Learning from past successes can provide valuable insights and accelerate the adoption of improvement patterns. Sarah's approach to coaching is not about teaching or telling, but about fostering curiosity and intrinsic motivation. She offers different versions of herself – as a teacher, consultant, or coach – depending on what the individual needs to be successful.
In conclusion, Lean is not just about tools and methodologies, but it's a mindset that encourages individuals to solve problems effectively. As Sarah and countless other Lean advocates demonstrate, cultivating curiosity, resilience, and continuous learning can lead to outstanding results in any professional and personal endeavor. Lean is as much about personal growth as it is about boosting operational performance. Crafting the right mindset does not depend solely on the tools but the intrinsic motivation of individuals, a principle Sarah personifies with her remarkable journey from being a biology graduate to a celebrated Lean leader.
The Transformation in a Pandemic
In the midst of a global pandemic and tackling new challenges between managing her job and being a mom, Sarah discovered coaching. Upon working with her coach, she found solace and empowerment. The ability to move from worrying about the opinions of others to understanding her own thoughts and imposing self-belief played a significant part. This catalyzed a major shift in her, as she began to tap into her inherent power, leading to a more centered and confident self.
Sarah found that improvements weren't only connected to understanding the problem or arriving at its root cause. Instead, it mostly dealt with sustaining the change that had been instigated. Altering ingrained beliefs and practices is an uphill battle, but ensuring comfort while undergoing change can make a vast difference.
Coaching As a Transformational Skill
Through her journey of self-discovery and elevation, Sarah realized the importance of integrating coaching skills into her professional life. She wanted to extend these benefits to others to drive transformation. The ability to ask insightful questions influenced her role as an agent of change and a Lean leader. In September, Sarah became certified by the International Coaching Federation, a pivotal moment that ushered her into a new phase of her professional path.
Her coaching curriculum, rigorous and extensive, allowed her to better understand her style and approach as a coach. She valued the importance of exploring different methodologies catering to diverse needs, paralleling it with Lean practitioners learning Scrum or Agile. Following a well-rounded approach of learning, practicing, and improving, Sarah compiled her learnings to build her coaching service.
Prioritizing Self-Care in Coaching and Leadership
Lean leaders like Sarah recognize the importance of balancing personal well-being with professional responsibilities. To maintain energy and focus, she emphasizes self-care and individualistic practices that fuel her. Waking early and dedicating the first couple of hours to herself greatly contribute to her centering practice.
Navigating her day, she's been able to maintain a sense of satisfaction and balance by taking care of herself first before serving others. This approach enables her to offer support and coaching without harboring resentment or depletion. This self-sustaining strategy not only fosters a positive outlook but also allows her productivity to remain unhindered.
Developing Problem-Solving Abilities
Problem-solving is more than a skill–it's a mindset. Adopting a growth mindset toward problem-solving encourages continual development and improvement. Sarah emphasizes the importance of aligning individuals with problems that pique their interest. Through this connection, curiosity and engagement are maximized.
Moreover, being aware of one's pace and process are crucial aspects of a well-aligned problem-solving practice. Having an objective projection of what a finished product looks like helps facilitate a focused approach to problem-solving. Always looking at 'done' through the lens of individual preferences allows individuals to interact more effectively with the problem at hand.
Founding the KPI Lab
Knowing she wanted to create a platform for her passion, Sarah started KPI Lab. Through this, she wanted to share her unique approach to Lean, offering a comprehensive and customized approach to problem-solving. KPI Lab focuses not just on Lean methodology and scientific thinking but also emphasizes talent development and fostering a sense of culture change.
Choosing the name KPI Lab encapsulates her roots as a scientist and her process of constant experimentation. It references key performance indicators while holding space for people's growth as problem solvers, symbolizing her dual approach. The origin story of KPI Lab further solidifies Sarah's commitment to growth, discovery, and becoming a problem solver.
The KPI Lab: Coaching Services
With a primary focus on individuals, especially executives within the Continuous Improvement, Lean, or Opex space, Sarah's coaching services are however not confined to this group only. Her approach to coaching appeals to anyone who desires to see things from a different perspective. Sarah believes, if the process of finding a solution is grueling, pivoting to a different approach could be beneficial. The principle she holds is, it doesn't necessarily have to be hard.
Sarah addresses the unique needs of each individual or organization she works with. She doesn't hold a one-size-fits-all technique but rather a repertoire of well-rounded practices that are used as suited to the individual's requirements. The blend of her unique Lean leadership skills coupled with life coaching strategies makes Sarah a valuable guide on journeys toward improved problem-solving abilities.
---
Automated Transcript (Not Guaranteed to be Defect Free)
Sarah Tilkens: Well.
Mark Graban: Hi. Welcome back to the podcast. I'm Mark Graban. Our guest today is Sarah Tilkens. She's an experienced Lean leader with a demonstrated history of working in industries, including construction and manufacturing.
Mark Graban: She has a couple of different roles and titles. She's senior Manager of Operational Excellence at GE Healthcare. She's a Six Sigma black belt, a certified coach, as she describes herself. Also a lifelong learner, leader, mother, and CEO and founder of her company, the KPI Lab. Sarah earned her bachelor's degree in Biological sciences from the University of Wisconsin Milwaukee.
Mark Graban: Sarah, welcome to the podcast. How are you?
Sarah Tilkens: I'm good, Mark. Thanks for having me.
Mark Graban: Excited about the discussion today. There's a lot to talk about. I like to ask people if I have any standard first question. It's kind of the open ended question of tell us your origin story of getting started with Lean. Was that with Six Sigma?
Mark Graban: I'd like to hear what your story is. How did you get started, where, why, and how?
Sarah Tilkens: Yeah. So you alluded to my background being in biology. So I went to school for biology. Out of college, I did biomedical research. And when I was doing that, there was a segment of the organization, the Diagnostic Lab Quality Team, that was getting certified in Six Sigma.
Sarah Tilkens: So I learned at a young age kind of what Six Sigma was. And I kind of always kept it in the back of my mind because I am a very natural picker and continuous improver. So it just fascinated me that that thing existed. And as my career evolved, as you alluded to, I did some time in construction. Again, I was always looking to tweak and fix process, but not necessarily within a framework or with a language.
Sarah Tilkens: I'm from Milwaukee or I live in Milwaukee and GE healthcare is in our backyard. So I was kind of sick of being in small industries, and I was looking for a place to fit. So I decided I was going to work for GE. But my background was really weird, so I went and paid for my own black belt, and I gave myself the language and the tools to speak the way that I needed to so that I could land a career at GE. And I did.
Mark Graban: Yeah. And about five years in. It would be five years November for you. Congratulations on that milestone. It's funny that you mentioned laboratory, and when I was able to first start working with some hospitals in 2005, it was almost always in laboratory.
Mark Graban: They were early adopters, I think, of Lean and healthcare for a lot of different reasons. And yeah, microbiology. I'm remembering the smells. My goodness, that is yeah, lots of weird smells.
Sarah Tilkens: We did a lot of stuff with animals, so I still have some PTSD around mice.
Mark Graban: Okay, that's research, the research side. But even something about the patient care side, it's something about plates and the cultures and everything going on. There are certain smells and certain types of manufacturing. I've got PTSD, apparently. Let's get past that.
Mark Graban: So I'm not surprised that you were exposed to some of that in laboratory work. How then did you switch from that to construction? That seems like that's quite the leap.
Sarah Tilkens: I actually decided that I just wasn't a good fit in the science industry. And a lot of people told me, hey, you've got a really good personality. You should go into sales. So I just did that. So I leapt from a place of comfort to a place of total discomfort, and three months later, I got fired from my sales job because I was terrible at it, and I had no idea what I was doing.
Sarah Tilkens: So I kind of was left trying to figure it out. I ended up doing, like, a customer service job and then very quickly accelerated into project management. So I've always had a lot of aptitude, a lot of skill, and I learn really fast. So I kind of talk about it just took me a while to land in a place where what I had to offer was recognized and I could actually create what I was intended to create. Wow.
Mark Graban: So we kind of inadvertently ended up with a mini episode of My Favorite Mistake there. Yeah, I'm glad you bounced back from that. It sounds like by nature, you kind of describe you're very process oriented. I'm generalizing, but sometimes sales, it seems like, can be a fairly process free zone. Was that part of the disconnect for you, or is that an unfair generalization?
Sarah Tilkens: I think because I actually just wasn't passionate about it at all. So I think now I'm learning, as I have my own company, like, how to sell myself, and I am fantastic at selling ideas that I love, because I think that when you love something and it comes from that place, you can't help but be contagious. I think what happened when I was younger is, again, I was going for a title or I was doing something that I thought was the right fit without actually having any alignment to who I am or considering that as part of the equation. And so I just fell flat.
Mark Graban: Well, I'm glad you kept looking and finding that fit. And then coming into GE and manufacturing, it sounds like there's a good overlap there of being able to focus on process and improvement with I imagine the passion for healthcare is strong for you. Tell us kind of about that transition and shifting into manufacturing for your first time.
Sarah Tilkens: Yeah, so I learned mostly everything I know about Lean when I got into manufacturing. So I was hired as a Lean leader, but I didn't know any of the tools. I didn't really understand the language. I just had the knack for continuous improvement. So getting to use process in manufacturing to understand how to conceptually apply my way of being and improving it just opened up this encyclopedia of possibility for me because it was so streamlined and easy to visualize that again, it brought it together.
Sarah Tilkens: So manufacturing was a place that I just found home and ease in being able to explore and really develop my craft.
Mark Graban: Yeah, a lot of people still associate GE so strongly with Six Sigma in the last five years. Larry Culp became CEO right about that same time, maybe just before you were hired in. I know he just reached his five year anniversary at the company, the first outsider CEO. His background was at Danaher. Great lean success story there.
Mark Graban: And yeah, it seems like there's been this shift to lean management, lean culture. I'm curious. Let me turn this into a question. Sorry. What kind of approach did the GE of 2018 take to educate you about lean?
Sarah Tilkens: It's interesting because they have a lot of Lean Academy. I mean, we have a Lean Academy in Hino, Japan, for example, which I had the privilege of going to in 2019. So actually going and studying the best of the best, doing standard work, doing observations, making improvements. But in the plant, really, most of my learning came from my leader who was an ex GM, ex Toyota employee. So I think that within GE, of course, there's the lean tools.
Sarah Tilkens: We do a tremendous amount of Kaizen in 2018, 2019, we helped at my plant to roll out tier meetings and daily management systems. So we were kind of on the forefront of bringing some of those tools into our place. But I really know, whether it's Six Sigma or whether it's lean, it's still just a problem solving mindset. And I think what GE does so well is retains really exceptional leaders who are wonderful at teaching that, again, it's not about teaching five S, it's about teaching people how to really problem solve. And so that's how I feel like I learned just through my leaders and through good examples of what it looks like.
Mark Graban: That might very well be the best way to learn, like in the real work with people who have that experience. And it's an interesting difference to me. It's all problem solving. It's all continuous improvement. There's degrees of continuous, but there's a difference between teaching tools and focusing on projects led by experts to what you're bringing up.
Mark Graban: Daily management system and leadership. There's a different layer that's really important. I was going to ask also for those who don't follow GE too closely. GE Healthcare was spun off earlier this year as a separate, publicly traded company, still retaining the GE name. It's no longer under Larry Culp as CEO, but there's still touch points I was going to bring up.
Mark Graban: In September, I had an opportunity to attend a great event that was put on by Larry Culp and GE, called the Lean Mindset. So they had GE Aerospace, GE Vernova, which is the power systems business, to be spun off next. And GE Healthcare was still participating. So there was all this talk about lean mindset and I know you touched on this on your website, sarah, for the KPI Labs. I'll ask you, how do you define and describe a lean mindset?
Mark Graban: What does that mean to.
Sarah Tilkens: Know? Again, I think it's just a way of thinking about problem solving and continuous improvement. So it is a relentless pursuit of a new possibility and of solving problems in a way that might be different or it might be old, but it's just leading with curiosity and applying the tools once you understand the problem that you have to solve.
Mark Graban: Yeah, and it seems like it comes back to mindsets lend itself to coaching. I mean, you can share a description of a mindset, but it seems like, again, the application and the nuance around that mindset comes out in the gemba in the work. So I was going to ask you kind of share a little bit more about your thoughts and experiences around coaching and being coached. If you have any scenarios or examples that kind of illustrate coaching somebody through a lean mindset that they might understand at first at one level, but then can understand it more deeply through coaching.
Sarah Tilkens: Interesting question. I think how I coach people on a lean mindset is I first start with understanding who they are and what they want. So I have found that if you learn that someone is really interested in plumbing, you're going to tailor yourself to them so that they can find that intrinsic motivation to problem solve, to learn the tools. You might take a different approach to someone who is interested in gardening. So really for me and the way that I coach, step one is just fundamentally understanding who are you, what impact do you want to have?
Sarah Tilkens: And then from that place, highlighting all of your superpowers and letting you pull tools and systems to you in order to solve problems the way that you know how. So it's less about saying the right way looks like this, but it's really sparking that ingenuity and innovation by saying, I have no idea what the right way is. But you can help to figure it out by using what innately makes you special.
Mark Graban: It sounds like it's kind of repeating back. I hear you talking about finding a one on one fit and is it fair to say, like, each coach e, I don't know if that's really a word, but each person being coached is a customer of the coach?
Sarah Tilkens: In a way, yeah, I would think so. I mean, that's how I treat people that I work with internally and through the KPI Lab is they're a client. And again, it's not my responsibility to give them the answer. You just get to kind of guide them and walk with them. So something that's been really important as I started identifying more as a coach or that's one of the hats that I wear, but I've had to do a lot of education with my staff on the different ways that I can show up for them.
Sarah Tilkens: So I can teach you, right? Like I can show you what I would do and I can give you a recipe to follow if you're interested in understanding my process and sometimes that's the right solution if you've never done it before you just want a teacher to show you their example, I can do it for you. Right. If you just want to watch from the sidelines how I do it, I'll be your consultant. I will show you my process.
Sarah Tilkens: And you can take what you want from that. Or I will be your coach. And when I am your coach, I'm neither. Of the other things I'm not going to teach you, I'm not going to tell you. I am going to ask you questions that generate your own curiosity and again that intrinsic motivation to help you find the answer that you seek.
Sarah Tilkens: So sometimes you need all, sometimes you need one. But it's really just offering people that there's different things that I can offer and helping them understand how to pull the version of me that they need to be successful.
Mark Graban: Yeah, and I love the way you're framing that. I'm push versus pull. We could be pushing ideas, pushing help as opposed to kind of creating the conditions where people can pull. So it seems like a coachee reaching out to you and saying hey Sarah, I need help with this would be an example of pull. Asking a question or sharing something with you is an example of poll.
Mark Graban: It seems like if we're pushing ideas there's a lot of potential for waste involved. Right. So how do you tap into tell us a little bit more around trying to discover and tap into the intrinsic motivation for improvement because I see a lot of organizations struggle where they're pushing methods that you brought up earlier. Tiered huddles elements of a daily management system. How would you work with a leader to help them understand the motivation for why they should even start trying other than like I have to and I'm in trouble if I don't.
Mark Graban: How do they find that stronger intrinsic motivation that aligns with what the organization needs?
Sarah Tilkens: I coach a lot of executive leaders in the CI space so I feel like I have this conversation often and again it comes from just the curiosity of what problem are you trying to solve? So often it is we have to do a daily management system or we have to do this but it's always just again creating alignment back to what's going to be the impact of that change and really allowing people to visualize that future state. I think it's really interesting too. We talked about mindset and something that I coach on a lot. Are you familiar with the thought model?
Mark Graban: No. What is that?
Sarah Tilkens: So the thought model is like a coaching tool, but it's just the way that our brain works. So you have a circumstance which creates a thought, which creates a feeling, which creates an action, and then your action generates your result. So if you are going into, my boss told me I have to do a daily management system, that's a circumstance, right. There doesn't need to be any emotion associated with it. It's just a fact.
Sarah Tilkens: If the thought is, well, that's not going to get anything done and that's stupid, your feelings are going to be of frustration. The way that you are going to deliver actions and results probably aren't going to be your best work. But if you can take that circumstances, I have to do a daily management system. And the thought you have is what an exciting opportunity to try something different or to motivate people. And again, from that place, how we feel about that thing we have to do is energized and excited and curious.
Sarah Tilkens: And again, from that place, we're using the same tool, we're doing the same thing, but we're going to generate a really different result. So it's both like understanding the problem that we're trying to solve and that's where some of that intrinsic motivation comes from, is we have to solve problems. But how we as leaders choose to walk forward into them and with what attitude, what mindset, that's what can sometimes be the difference between winning and losing.
Mark Graban: And oftentimes is different results from a different approach. But part of that emotional response you describe of like, oh, this doesn't work, it's stupid. There could be some past circumstance. Right? So they're not just hypothesizing that this is stupid.
Mark Graban: That could have been some past experience where maybe something wasn't being implemented well or maybe it wasn't connected to more intrinsic purposes. And people, if people go through the motions, of course it's not going to work. That's almost like self fulfilling prophecy. But how would you coach somebody through let's say you have past experience as positive they have past experience and circumstances that were negative. How would you try to bring them along to even share the hypothesis that trying again, trying differently would lead to a better result?
Mark Graban: It's kind of hard to work through that.
Sarah Tilkens: Yeah. And I think often what I would do is just ask where they won. Right? So like, okay, so that's an area that you haven't been successful, but tell me about something where you were really successful. Tell me about a change that you brought forward where you did win.
Sarah Tilkens: And again, I think it reinforces that you're a capable problem solver. Right. So sometimes when we're feeling in those feelings of failure, we're looking for all of the validation that this isn't going to work again. But sometimes if you shift to show me something else that did work okay, now come back to this problem that we're trying to solve. What can you use from that and how can that offer you something here and again, it's not me telling, but you'll say, oh, you're right.
Sarah Tilkens: When I did that, I had really good relationships with the senior leaders when I was rolling that out. And that was really critical to my success. And the last couple of times we tried to roll out DMs, we just didn't have the buy in. So what I need to do is I need to go ensure that this framework is set in just and I don't know what your past success or failures look like, but it's just reminding people that it's never black and white. And anything is possible if you're willing to just try again and think about it in a different way.
Mark Graban: Yeah, like you said, as a coach, you don't know. So it's better to ask and try to draw that out instead of just assuming, oh, so and so is cynical and they've been through instead of blaming them, like trying to draw out I like how you frame that, trying to draw out something positive. I think there's a difference in mindset. How do we make this work? As opposed to, I bet it's not going to work?
Mark Graban: And again, that becomes self fulfilling. If someone believes, like, here's, I'm not excited about it, I'm not going to put the effort in, then someone can be sort of, in a way, satisfied of like, well, see, I told you it wasn't going to work. It didn't work, but we didn't make it work. There's that more active stance than the passive I'm a victim of it not working. It's kind of hard to sort through, especially if someone's a frontline leader in the middle, they might feel kind of stuck or how do you help them, especially as you're shifting toward a lean culture, help them believe they are more empowered than they might have felt in past circumstances.
Sarah Tilkens: I think it's just, again, knowing what motivates them and what is important about empowerment and what that means. And then there's something called the progress principle, which is that people are actually happiest when they're making progress towards a meaningful goal. So I think it's about understanding if you were empowered or if you were winning, how would you know? And actually coming up with some of those leading behavioral indicators. So if I show up every day with curiosity, if I spend the time investing in my staff, like cultivating that belief, that lagging indicators will come.
Sarah Tilkens: So if you're your best self, if you're leading truly with your values, and you come up with a measurement system, I think that you can again get through some of that. But oftentimes it feels like we're doing the right thing, but we don't have that scale. We can step on every morning and say, yes, I lost a pound. So a lot of the work that we're doing, it takes a long time to generate transformational results. So coming up with a way to just measure the success, I think, for leaders is really important.
Mark Graban: And how do we coach people through I don't know if being resilient is the right phrase to use, but you talk about, okay, well, I'm down a pound today. I can celebrate. There are days in a weight loss journey where someone might be up 0.6 pounds, and that doesn't mean there's no progress. That's more a question of variation, trying to convince somebody. Even if we're implementing new practices at work, there might be a step back occasionally for every two steps forward.
Mark Graban: In my experience, we have to help guard against people saying, oh, see, there's a setback. I told you it wasn't going to work. Like not leaping to that kind of preordained conclusion too quickly. Can you think of a scenario where you had to kind of coach somebody through the slight Blip, where it didn't feel like progress today, even though over time, it's part of the progress?
Sarah Tilkens: Yeah. And what comes up for me when you say that after I had my daughter, I used noom, it's a weight loss program, and it's rooted in psychology. And one of their tricks is you have to weigh yourself every single day when you're behaving the way that you're supposed to behave. So you're eating right so that you can understand that your weight fluctuates. Right.
Sarah Tilkens: So your baseline is fluctuation. So again, in coaching, you're just establishing that right out of the gate, and you're coaching people on. We're so accustomed to if it looks this way, this is a loss. Why are you believing that thought? So it comes back to that thought model of just do the things that you know will create the results that you want.
Sarah Tilkens: And there's the measurement system, which helps you to measure the progress. But just like any control chart, right. If you look at an individual day, of course you're going to see variation. But if you're looking across a period of time, you're going to hopefully see the results that you're trying to generate or not. And if not, it's not a failure.
Sarah Tilkens: It's just an opportunity to revisit what needs to change so that you can get back on track.
Mark Graban: Yeah, and there's powerful lessons, and there are applications of SPC or control charts or process behavior charts to something like weight. I've heard some people that would even be labeled as experts say, like, well, you shouldn't overreact to every day, so you should only weigh yourself weekly. I'm like, well, that's one approach. But there might be variation then at that weekly level. Maybe easier said than done, like you were describing and coming from noom, we can learn not to get too upset about a daily Blip.
Mark Graban: That probably doesn't make sense when we talk about measurement or process. You might measure production on an hourly basis in manufacturing because you're looking to try to drive out variation and drive consistency. Somebody weighing themselves hourly? No, probably not. Probably not a good practice there because that's all kinds of different variation, intraday variation that's maybe not worth looking at.
Sarah Tilkens: But that's where, again, it's what problem are you trying to solve? So it just always comes back there because if you're looking at something that's going to take time to change, of course maybe it doesn't make sense to look every hour of every day. So you kind of have to build that into how you're solving a problem and what does success look like and what does done look like. And if you feel like measuring every day, I'm going to weigh myself every day. If you're getting discouraged and that doesn't work for you, who cares what my advice is?
Sarah Tilkens: Try something different. So I think it's just that permission to always be in experimentation mode. You're always just testing a hypothesis because we don't know if we remain curious instead of sure that we have the solution. I think that's what keeps us really agile and resilient as we solve problems both in organization and as independent.
Mark Graban: Yeah. Yeah, that's very well said. I agree with you totally. I love the way you said that. So I want to ask, and this maybe kind of starts getting into the business.
Mark Graban: You started the KPI Lab and getting certified as a coach. Can you tell us about that process and kind of how and where you went about that?
Sarah Tilkens: Yeah, I got my first taste into coaching about three ish years ago. I had my daughter month one of COVID And so I was out, I was taking care of a baby. I came back to the office full time, mandatory worker in a new department because my role had switched when I was out on maternity leave. So I was trying to figure out how to be a mom, how to do this job, how to survive in a pandemic. And then I got to start working with my coach and it just transformed so much of my life.
Sarah Tilkens: I went from worrying about what other people thought to really just finding the power in myself to know what I thought. Instead of selling, I was buying. So just really it allowed me to sit in my power and instead of all of the hats, just kind of find home. And I really just wanted after that experience, to be able to offer that to other people. And as a person in CI, I feel like 80% of the time that we're solving problems.
Sarah Tilkens: It's not that we don't know how to understand the problem or get to root cause. It's that it's really hard to sometimes sustain things because ultimately what you're doing is you're changing beliefs and change is really hard. And as a coach, sometimes I have these secret questions that I can ask because, again, it allows people to be comfortable with change in just different ways. It's just a different set of tools that I now possess that make me more effective as an agent of change and way more effective as a leader. So it's just been a fascinating journey.
Sarah Tilkens: I actually finished certification. I went through Coactive as a certifying body. I finished that in August, and then I got certified through the International Coaching Federation in September. So it has been a long journey, but so worth it.
Mark Graban: Yeah. You mentioned Coactive, and then what was that other organization you mentioned?
Sarah Tilkens: ICF is the International Coaching Federation.
Mark Graban: So you mentioned Coactive. I was going to ask you a little bit about if someone's listening and they want to do the same thing. There's a lot of organizations that can train and certify you as a coach. Can you talk a little bit about your selection process of identifying who is the good fit for you?
Sarah Tilkens: Yeah, so there was a couple of things that went into that. A, my coach was proactive. So obviously we all have mentors and people that we respect a lot, and their opinions can mean a lot. And I received coaching from people who had gone through different programs. And not to say that a coach is their program, because we've always bring so much of ourself to that.
Sarah Tilkens: But the way that Coactive coaches showed up and held space for me felt so unique. And also the Coactive curriculum is very rigorous. It's hundreds of hours of coaching, it's hundreds of hours of education, and it's just this practice. Right. So you just really get good at understanding yourself as a coach.
Sarah Tilkens: And that's really what I wanted to experience. And so it was the right program for me. But again, I would encourage people to play with all of the different styles. I feel like there's a lot of Coactive coaches who actually go through other programs as well just to learn a different discipline. And lean people learn Six Sigma and lean people learn Scrum and Agile.
Sarah Tilkens: So it's, again, a means to an end, but it's just a different language.
Mark Graban: Yeah. And there might be parallels to a Six Sigma Belt program or a lean Six Sigma Belt program. There's education, there's the book learning, and then there's the application. Hopefully with a good mentor, it was part of that program, providing opportunities to coach the coach for you to receive coaching and feedback as you're coaching others like your project, if you will.
Sarah Tilkens: Yeah. When you are done with the educational portion, you have to get 100 hours of coaching under your belt, and you have to be working with a certified coach as you go through it. So you have your coach who's helping you navigate your self management as you're figuring out how to serve other people. Also within their certification structure, you have master coaches that review your work. So I had my client sign waivers, and I would record some of our sessions, and then I would review them with a proactive coach who is different than my coach.
Sarah Tilkens: And really they were looking at technique. They were looking at how was I standing in the discipline, how was I showing up for people? So, I love feedback. I think a lot of people in CI love feedback, but it was so powerful because oftentimes it's, oh yeah, you're really good. That was super helpful.
Sarah Tilkens: But these were trained coaches who would say, yeah, of course you're good, but here's all of the stuff that you didn't do right. So it was this really rigorous approach that helped us learn just how to shift our skills. And when you record yourself and when you listen to yourself back, I started to hear it and then I could self correct behavior. So it was just a really good process to deepen the learning of how you need to evolve to be a different thing.
Mark Graban: Yeah. So there are technical methods for lean, for coaching, for leadership, if you will, what you do, how you go about it. And then there's kind of this layer of like, well, how are we being? So, to that point, what are some of your thoughts on taking care of yourself as a coach or a leader? How do you help yourself so that you can better help others?
Mark Graban: Because being a leader, being a coach, doing improvement work can be draining in different ways. How do you or how could well, I'm already hear you saying, well, here's what works for me, so what works for you? Sarah?
Sarah Tilkens: Yeah. So I had to figure that out. And it took a long time, especially as a new mom, because I'm sure any new parent can relate. But self care and finding time for yourself is usually not super high on your to do list, but really it was just slowly taking the time. And sometimes I would just spend 10 minutes staring at a wall.
Sarah Tilkens: And that was the time that I offered myself and experimenting with different things that again, filled my cup, but just little by little and seeing what worked. And there was something about like I wake up at 430 most days and I spend the first 2 hours of my morning just doing stuff for me. So I read, I work out, I journal. And that has been really critical to me, showing up as a good parent and showing up as a good partner and a good leader because I have already done the stuff that makes me feel whole. And so, as I go about serving others throughout the day, there's no resentment that I'm giving without offering.
Sarah Tilkens: So I don't look for other people to fill my cup. I just found out how to do it myself. And there's no, again, resentment there either. I'm privileged to know how to take care of myself and again, it allows me to take care of others with just so much more love because I don't expect anything in return.
Mark Graban: And it comes back to some of those problem solving instincts. Again, experimenting with different things and figuring out what works or what doesn't work. I mean, there's always that problem solving challenge, whether it's here in the realm of self care or workplace problem solving, of like we're trying a countermeasure. Is it not working or is it not working yet? I'm curious, your thoughts on as someone trained as a scientist, how long do we let an experiment play out before drawing too much of a conclusion about the need to adjust the approach or even the need to say, hey, let's go back and try something altogether different?
Sarah Tilkens: Yeah, I encourage people that I work with to come up with that on the front end. And this is something I do with my staff too, is whenever you're solving a problem, we talk about who are the stakeholders, how do you articulate the problem statement and what is done and how do you know? So sometimes we describe what is done in terms of a project, but also it can be in terms of milestones. So for example, if we're trying to improve output on a line and we're at 100, we're trying to get to 150, I'm going to say, Mark, what is done? Are you going to hit 150 and walk away?
Sarah Tilkens: Are you going to hit 150 for three weeks, sustainably across all three shifts? Are you going to just give the business team the standard work that allows them to hit 150? And again, I don't necessarily care what you say is done, but allows you to set your own trajectory based on how you know that you like to work. I'm not super detail oriented. It's really hard for me to watch day after day and do all of that methodical process stabilization.
Sarah Tilkens: I just know that about myself. So I align with that right up front. Is done for me is usually I want to offer you that solution, I'm going to walk beside you and make sure you understand how to sustain it and then because it works for me, I'm going to be done. So it's just, again, in deciding for yourself what that looks like and again setting those little micro milestones so you know that you're winning or losing.
Mark Graban: Yeah. So, Sarah, we're joined again. Sarah Tilkens. She's with GE Healthcare. She has her own company that she launched, the KPI Lab.
Mark Graban: I'd love to hear the origin story of the company and how that came to be.
Sarah Tilkens: Yeah, the origin story is just that I wanted a path to do the work that I love in a different, more impactful way and just share myself. So I think on my website I have this little quote where I alluded to it earlier, but I've been looking for a place where I fit and it wasn't science and it wasn't construction, and in GE it's better, but I just decided to build it myself. And so this is the place where I genuinely just get to share all of who I am and what I love with the people who I think that I'm meant to serve. And it's really at its core about using scientific thinking and lean methodology, but pairing that with talent optimization and pairing that with people development and culture change because again, we know the tools, but if we're not taking the people with us, our solutions aren't going to sustain. So it's a different approach to doing talent development.
Sarah Tilkens: But again, I train problem solvers. So it's been so much fun so far.
Mark Graban: Yeah, well, good. And there'll be links in the show notes. Thekpilab.com is the website and as it spells out on the website, KPI. Tell us about the name that KPI stands for two things, the one we might first think of and something else.
Sarah Tilkens: Yeah. So it stands for key performance indicator. Right? Like, you've heard me talk today about how important it is to understand the score and if we're winning or losing and also keep people improving. And that's my homage to you don't know what's right.
Sarah Tilkens: You just have to stay agile and curious and play. And that's how you get where you're trying to go. And then the lab is from my previous life of being a scientist, but it's where I learn to experiment and I learn to play and where curiosity is almost more important than sometimes generating a result because it's just about discovery.
Mark Graban: Yeah, well, it seemed like that could go hand in hand. The curiosity can lead to better problem solving and better results, as you said so well earlier. And I tried touching on this, in the mistakes that make us in that book. There's a difference between being so certain and knowing. I know this is a trap, right?
Mark Graban: I know the root cause, I know what the countermeasure is, I know it's going to work. And I'm like, oh, it's not always that cut and dry, right? Think of more like a scientist of I have a hypothesis, let's go test it. I love the idea of a learning I mean, there's a time and a place for a classroom, but the learning lab, that seems like a better place to practice and learn problem solving, right?
Sarah Tilkens: Yeah. And a lot of the templates that we use for problem solving too, when we're doing root cause analysis, it's what's the question? Right? Like, when you're doing the five y, what's the question? What do you believe is the answer?
Sarah Tilkens: And then how do you know? And if you can't put something actually, it's called like Gemba Evidence is the title of that category and it's how do you know? And if it is anything less than real data driven results, do not pasco, do not go to the next step. You need to go design an experiment and confirm that hypothesis. Because if you keep walking, a root cause analysis based on an idea, I mean, interesting, but you have to go make sure that it's real.
Sarah Tilkens: So I think that's where again, we talk about root cause, but it's still just experimentation. You're just confirming a hypothesis until you get where you're sure and then turn it on and off, my friend, because that's how you know yeah, that's one.
Mark Graban: Of the great lessons I learned from working with former Toyota people. There are rare exceptions, let's say in hospitals, where it wouldn't be ethical to do this, but you found a countermeasure that seems to address the root cause and have positive impact. There are a lot of settings where, like you said, turn the countermeasure off, see if the problem comes back. Like you're trying to test the cause and effect relationship. And sometimes that's complicated and sometimes that's a little messy.
Mark Graban: But yeah, if we found a countermeasure that reduced medication errors, let's not turn that off. Let's look for evidence that the progress has gone away and then maybe, oh well, maybe there were other factors, but either way, we're learning, we're adjusting back to the GE event they brought in Carol Dweck, author of the really important book Mindset. And it seemed like you share this belief that problem solving is something we can have a growth mindset about. We're not inherently like, well, I am a good problem solver, I was just born that way. That fixed mindset approach probably isn't correct.
Mark Graban: Tell us more your thoughts or experiences around problem solving as a skill that we can develop.
Sarah Tilkens: Yeah, and I think a lot of when I train problem solvers with a problem solving mindset, so without curiosity and without innovation and sparking some of that, it is really hard to get people interested in solving problems. And that's where, again, I feel like a broken record. But if you can align a person with problems that they're passionate about, again, everyone is curious in their own way. They just might not be curious about everything. So that's where, again, there's this people centric approach to if you line a person up with the problem that they're uniquely qualified to solve, they will do so.
Sarah Tilkens: So I think that oftens when we're failing to solve problems, like, yeah, there's skills and we can teach people the A three, we can teach people eight step, we can show you how to work a problem statement. But to generate curiosity, to solve a problem, I think that's often a step that we just fail to even look at. And that's where growth mindset comes in. And some of the best problem solvers that I know, we all have personal values and beliefs and lots of people value curiosity. They value finding an answer.
Sarah Tilkens: So usually those are the people that I find to be the best problem solvers because who they are is actually a problem solver. They're honoring their own values by showing up in the world and solving problems.
Mark Graban: And as a highly curious person, hopefully you don't work for somebody who finds curiosity annoying.
Sarah Tilkens: I don't. Not at all. I mean, my boss finds me annoying and loves me and it's totally fine.
Mark Graban: But it comes back to that question of fit. I wasn't trying to put you on the spot about fit. You already said it's a lot better for you now than it was at previous places. But you're talking about what problem are you trying to solve? We can kind of talk through this gets maybe a little bit meta.
Mark Graban: If someone comes to you and says, I want to get better at problem solving. You can turn that into a problem solving scenario. You're proposing a solution, a countermeasure of getting better at problem solving. What problem are you trying to solve by getting how would you articulate if somebody says, well, I was taught to describe this as a big vague concern. We're not good at problem solving.
Mark Graban: Well, we have to unpack that. We need to kind of go back and say, well, what does that really mean? What is your current state of problem solving? What are the measurable gaps and kind of try to unpack like, oh, well, we're not improving quality. Oh, okay, well, now there's a problem to solve through better problem solving.
Mark Graban: Maybe I'm being annoying, talking through it that way.
Sarah Tilkens: I don't think so at all because I feel like that's often what we do is we have these lofty. Again, I want to be a better problem solver. And I might ask what's important about that? Or what would be the impact of becoming a better problem solver or a better problem solving organization? And if you were a great problem solver, how would you know?
Sarah Tilkens: So again, it's first diving into just like, what's your definition of a great problem solver? Because I might measure delivery with this metric and it looks like this, and you might measure it a little different. So first you have to level the playing field to say, and what does that mean to you? Because how I define being a great problem solver could look really different. So it's just again, I'm driving myself crazy because I keep coming back here.
Sarah Tilkens: But it's just that really personalized approach to you. What does that mean for you? Because even in organizations, when we say things like that, that's just the opinion of a leader. We can decide that's true or not, and we can play with it and we can get curious, but just saying something doesn't mean it's true. It's just a statement, right?
Mark Graban: I've heard the statement. People will say in an organization, we don't need problem solving training. We're already great problem solvers. We solve problems all the time and like, well, okay, how do we know that to be true? What's the definition of that?
Mark Graban: And the reality could be they're great at jumping to solutions. They're not great at evaluating their countermeasure. They might equate problem solving with layering on workarounds. It can be an uncomfortable conversation to try to bring someone around to realize, I do have opportunities for growth. In terms of my problem solving skills, I've probably made mistakes and not handling that as gently as you need to sometimes because you don't want to make someone defensive.
Mark Graban: You just said I'm a crappy problem solver. I'm like, well, I probably didn't say it that directly or just even like.
Sarah Tilkens: What came to mind for me is just asking if you could snap your fingers and if you could change something, what would you change? Right. And you might say, oh, that my people show up and they're more passionate about the work they do. Oh, that we were able to hit our customer output. Oh, that we could fix this quality problem.
Sarah Tilkens: So often, if you can, again, just change the way that you're asking the question, because developing problem solvers is a how, right it can be. So if you can say, well, what would amazing look like? Or what do you want? And then wouldn't it be great if we could have people help you with that? And so it's, again, selling an idea.
Mark Graban: Well, Sarah, it's been great talking to you today. One other question for you about the KPI Lab. How do you describe your ideal client or coachee? Is it individuals, organizations? Who do you best work with?
Sarah Tilkens: So I have been coaching primarily individuals, and most of my clients are executives in the CI, Lean, Opex space. And I think, really, whether you're an individual or an organization, what I offer is just ways to think differently. So it's just, again, you know how to solve your problems, but sometimes when you're looking in the mirror, you see the same thing. So it's just a different voice, a different type of experience to help you unlock your talent, unlock what's possible, and just think about solving your problems in a different way. And something I offer is, if it's hard, you might be doing it wrong.
Sarah Tilkens: It just doesn't need to be hard. So if you are facing some problem that you just can't figure out on your own, well, maybe it would be more fun with another person, and maybe there's a different path forward.
Mark Graban: Yeah. And it would probably be more fun with you, Sarah. So, yeah, hopefully people can reach out if they agree with that and reach out to you and you can figure out what problem they're trying to solve and how you can help them figure that out. So again, guest today, Sarah Tilkens website for her company is thekpilab.com. You can look in the show notes for more about that.
Mark Graban: So, Sarah, thank you for being a guest here. It's been really great having the conversation with you.
Sarah Tilkens: Yes, thank you so much for having me. Mark, this has been wonderful. Thanks.
---
What do you think? Please scroll down (or click) to post a comment. Or please share the post with your thoughts on LinkedIn. Don't want to miss a post or podcast? Subscribe to get notified about posts via email daily or weekly.
---