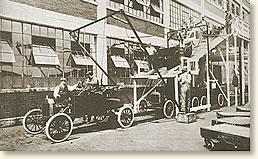 Henry Ford Changes the World
I can't find the date online, but XM Radio's "This Day in History" feature claimed that today, October 7, in 1913, was the first activation of the continuously moving assembly line at the Ford Highland Park factory.
Happy 93rd birthday to the assembly line!
---
Thanks for reading! I'd love to hear your thoughts. Please scroll down to post a comment. Click here to receive posts via email.
---
Now Available
– The updated, expanded, and revised 3rd Edition of Mark Graban's Shingo Research Award-Winning Book
Lean Hospitals: Improving Quality, Patient Safety, and Employee Engagement
. You can
buy the book today
, including signed copies from the author.
---